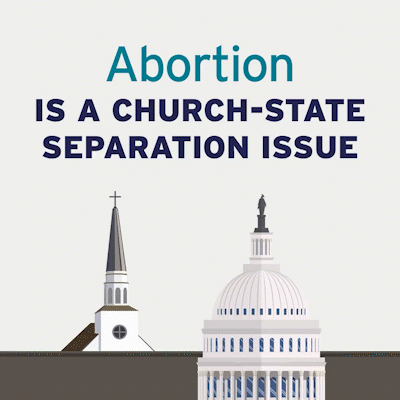 Upcoming Event

Annual Meeting --
Church-State Separation Affects Everyone

Tuesday, June 7, 2022
7:00 p.m. CDT by Zoom
After a brief annual meeting, three issues of current concern-- LGBTQ equality, racial justice, and reproductive freedom--will be addressed by individuals who are deeply involved in them. They'll explain how separation of church and state is an underlying factor in these issues and how—in obvious or subtle form—oppressive legislation, acts of discrimination, or misuse of public funds often stem from the desire of those with a certain religious orientation to impose their values and theology on all of us.

Monthly Chapter Board Meetings
Chapter members are invited to attend chapter board meetings. The board welcomes members' input and participation.

The meetings are usually held on the second Saturday of every month at 10:30 a.m. We'll be electing a new board at our annual meeting in June, so won't have a monthly board meeting in June.

Past Events
During the lengthy pandemic shutdown precluding in-person events, the Greater Houston chapter has presented a number of stimulating programs via Zoom. We have featured distinguished speakers from across the country, collaborated with other AU chapters, and drawn viewers from all over the country.


Should There Be Religious Exemptions from Public Health Requirements?
Texas' constitution was amended in 2021 to exempt religious services from public health restrictions under any circumstances. Other states and localities have taken similar positions, and lawsuits claiming that restrictions on gatherings or mask or vaccination requirements violate religious freedom have been filed nationwide.

With AU's Central Savannah River Area chapter, we presented a panel featuring an infectious disease specialist, a medical ethicist, a pastor, and an AU attorney. The experts discussed public health requirements that have been mandated during the COVID-19 pandemic and whether religious exemptions are warranted.
Our Campaign Against Proposition 3
The Greater Houston chapter, working with the El Paso and San Antonio chapters of AU, led a vigorous campaign against Proposition 3, a proposed constitutional amendment on Texas' Nov. 2021 ballot. The amendment prohibited the state and local governments from limiting religious services of religious organizations without exception, even if public safety necessitates it.

We published letters to the editor and op-eds from faith leaders and other community members, discussed the issue on local radio, formulated detailed talking points that were used and distributed by media and individuals, created a dedicated website page, and more. The Houston Chronicle and most other urban newspapers in Texas endorsed our position, but the approximately 9% of registered voters who turned out approved it.