Our nation and our state promise everyone the freedom to believe as we want, as long as we don't harm others. AU has been fighting to protect the separation of church and state for 75 years, and the Greater Houston chapter has been active for over 25 years. We need you to join us in the fight!
Join!
Join Americans United to protect real religious freedom for all! An annual membership starts at only $35 and includes a subscription to AU's award-winning magazine Church & State. Higher levels of contribution bring additional benefits. You can also sign up to give monthly.

Click on the "Become a Member" button or mail a check to:
Americans United of Greater Houston
P.O. Box 550743
Houston, TX 77255-0743

You'll become a member of both our chapter and the national organization. Your initial gift will support our chapter directly. If you give your email address, we can start letting you know right away about chapter activities.

If you join through the national organization, please ask to be a member of our chapter.

Renew Your Annual Membership
Thank you for being a member of AU! If it is time to renew your annual membership, please click the button below. Thank you for your continued support!
Volunteer with Us!
Help us protect religious freedom in our community! You'll engage with like-minded folks who are working together to present inspiring and educational events or to raise public awareness about AU's issues in our community. You can use your skills or learn new ones–-and you may not need to leave your home!
Ways you can help include:
· Posting to our social media
· Planning an educational or advocacy event or activity
· Partnering with faith leaders
· Strengthening ties with a specific community or organization
· Writing letters to the editor

Email us to learn more or offer your ideas, interests, or skills.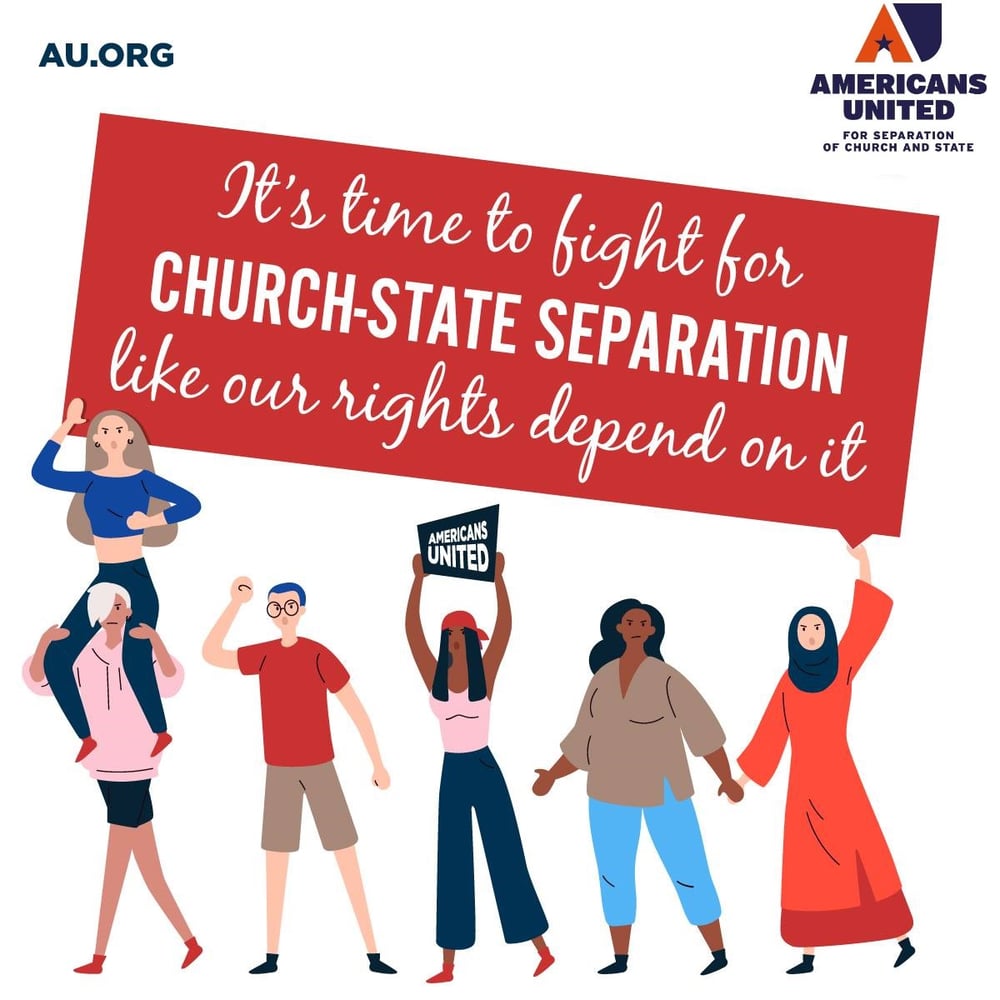 Report a Violation
If you have been harmed by or have learned of conduct that you think may violate church-state separation or religious freedom, AU may be able to help.

See some examples of violations, learn more about your rights, or submit a confidential complaint at Report a Violation.


Donate
A donation of any amount is greatly appreciated. AU is a 501(c)3 non-profit organization. AU's federal ID is #53-0184647.

You can make a tax-deductible gift that isn't your renewal by clicking on the "DONATE" button or mailing a check to:
Americans United Houston
P.O. Box 550743
Houston, TX 77255-0743
Other Ways

You can support AU in other ways, including employer matching, a gift subscription to Church & State, a tribute donation in someone's memory or honor, a bequest, funds from your IRA or Donor Advised Fund, and more. See AU's Donation FAQ's for details.

If you'd like your gift to go to our chapter, please either specify that to AU's development department or let us know of your gift.
Get National Updates

Get breaking news, action opportunities, and weekly newsletter from AU's national office.
Join Faith Leaders United
Faith Leaders United is a diverse network of faith leaders from across the United States dedicated to protecting religious freedom for all people, while also ensuring that religion is not used to harm others. We believe that religion should lift up, protect, and serve others.